The ultimate guide to winter bike commuting. 
For many cyclists, winter marks the end of their biking season. But it doesn't have to be that way! With the right approach (and equipment), commuting by bike can be done all year, even in the harshest conditions. 
Do you need a winter-specific bike
You might think that it's impossible to bike in winter with your current bike but it's easier than you think. In fact, with only a couple adjustments almost any bike can make a good winter rig.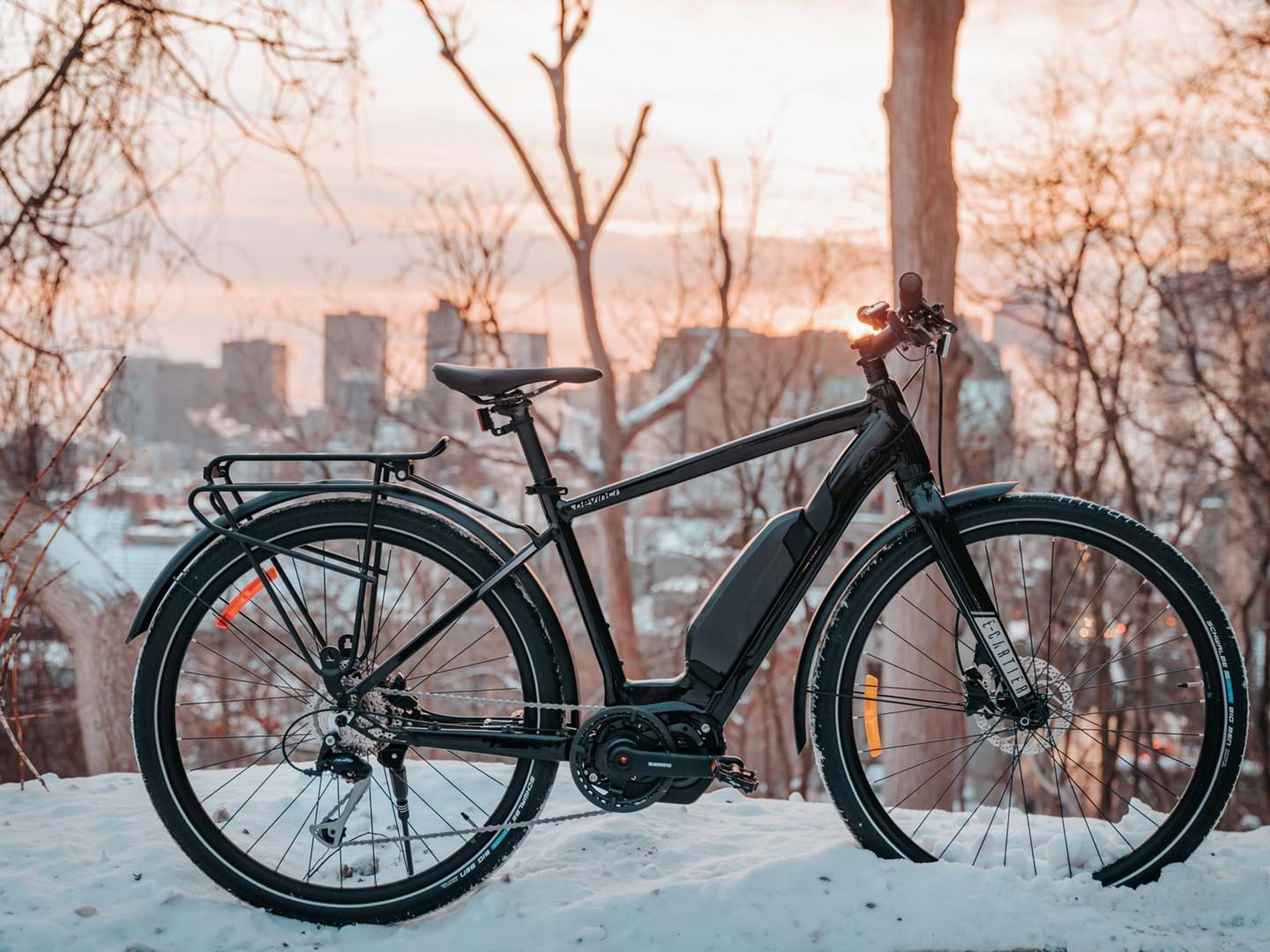 What kind of bike can you use? 
The simple answer is any bike! Of course, some are better than others as some will require a bit more winter-proofing. Here's a list of options that can work for you depending on the type of riding that you do.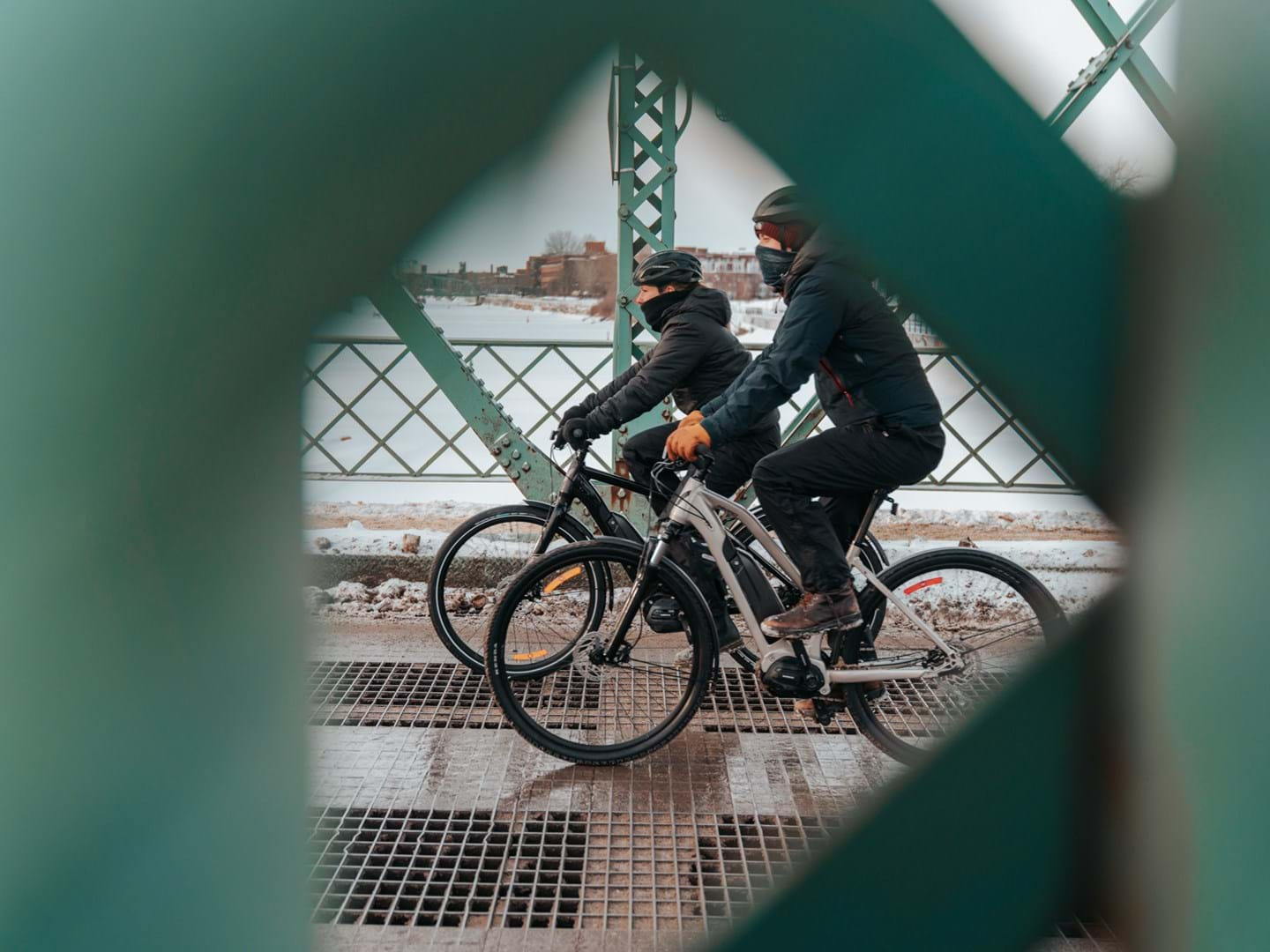 Commuter Bikes 
A popular platform amongst urban cyclists, commuter bikes are a good way to dive into winter riding with minimal investment. 
Gravel Bikes
These all-terrain machines are a great way to tackle longer distances. Thanks to their MTB-inspired geometry and fast-rolling tires, gravel bikes are king at handling loose conditions in a controlled and efficient way. 
Mountain and Fat Bikes 
With their wider tires and aggressive tread pattern, mountain bikes are a great option for shorter commutes in rougher terrains. 
Electric Bikes
E-bikes are a great alternative to regular bikes if you want to commute without getting too sweaty or simply if you need to cover more distance. Thanks to their assistance, commuting gas-free has never been easier. We recommend that you remove your battery to charge it inside if  you're storing the bike in a cold environment. 
Mudguards
Mudguards are a must when riding in treacherous conditions! Nobody wants to show up at the office covered in mud, dirt and snow. They're also a great way to protect your frame from debris and minimize the effect of road salt on your bike's components.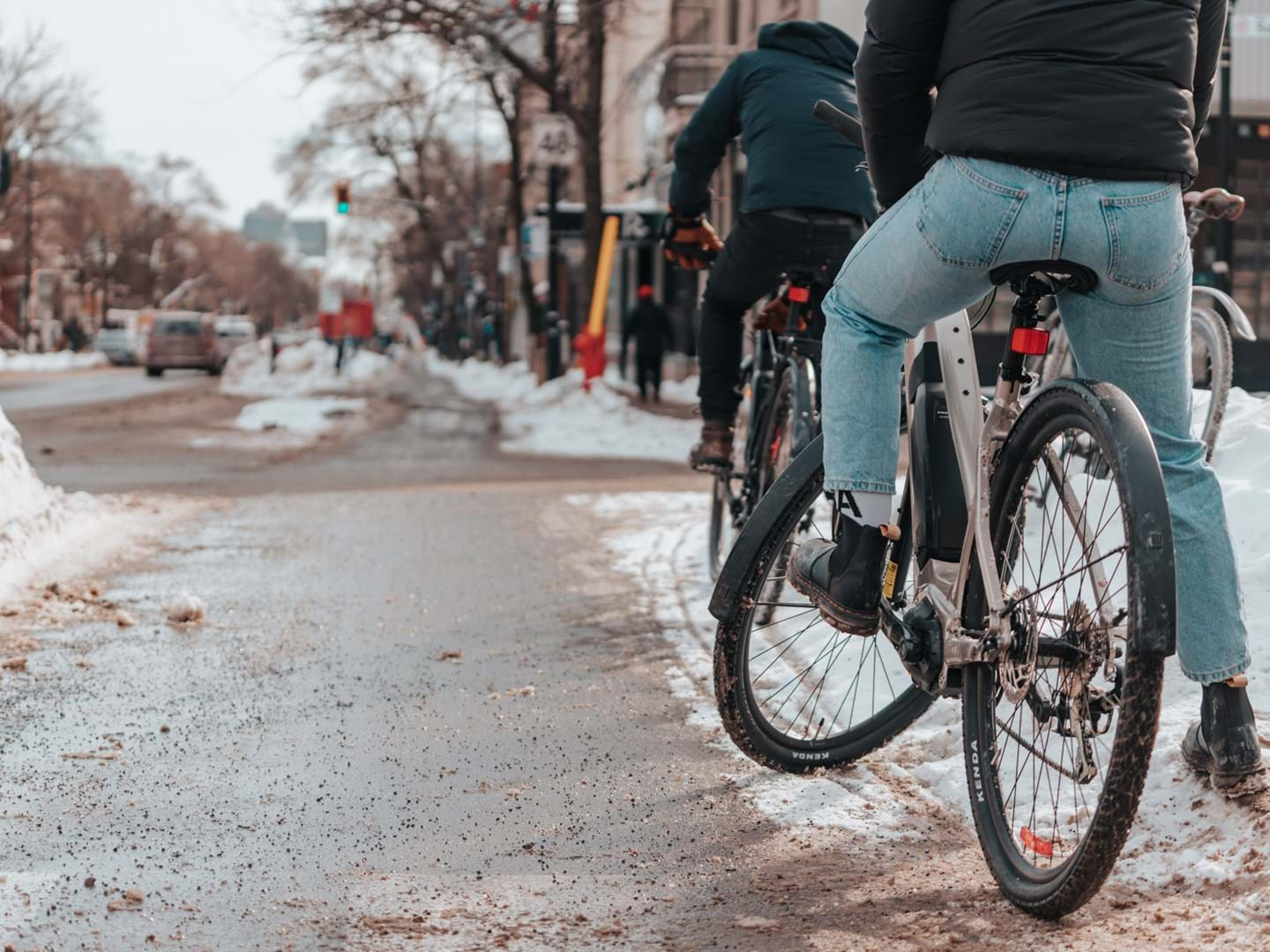 Tires 
You've probably heard it before, tires are the only point of contact between you and the ground. Needless to say, they are essential for winter riding conditions. Good winter tires are usually wider and offer more resistance to puncture. Some brands even offer studded tires for extra grip in severe snow and icy conditions. 
If you only have the budget for one studded tire, we recommend that you put it in the front for optimal traction and control. You can easily get away with a regular tire in the back since losing traction on the rear wheel won't affect handling as much.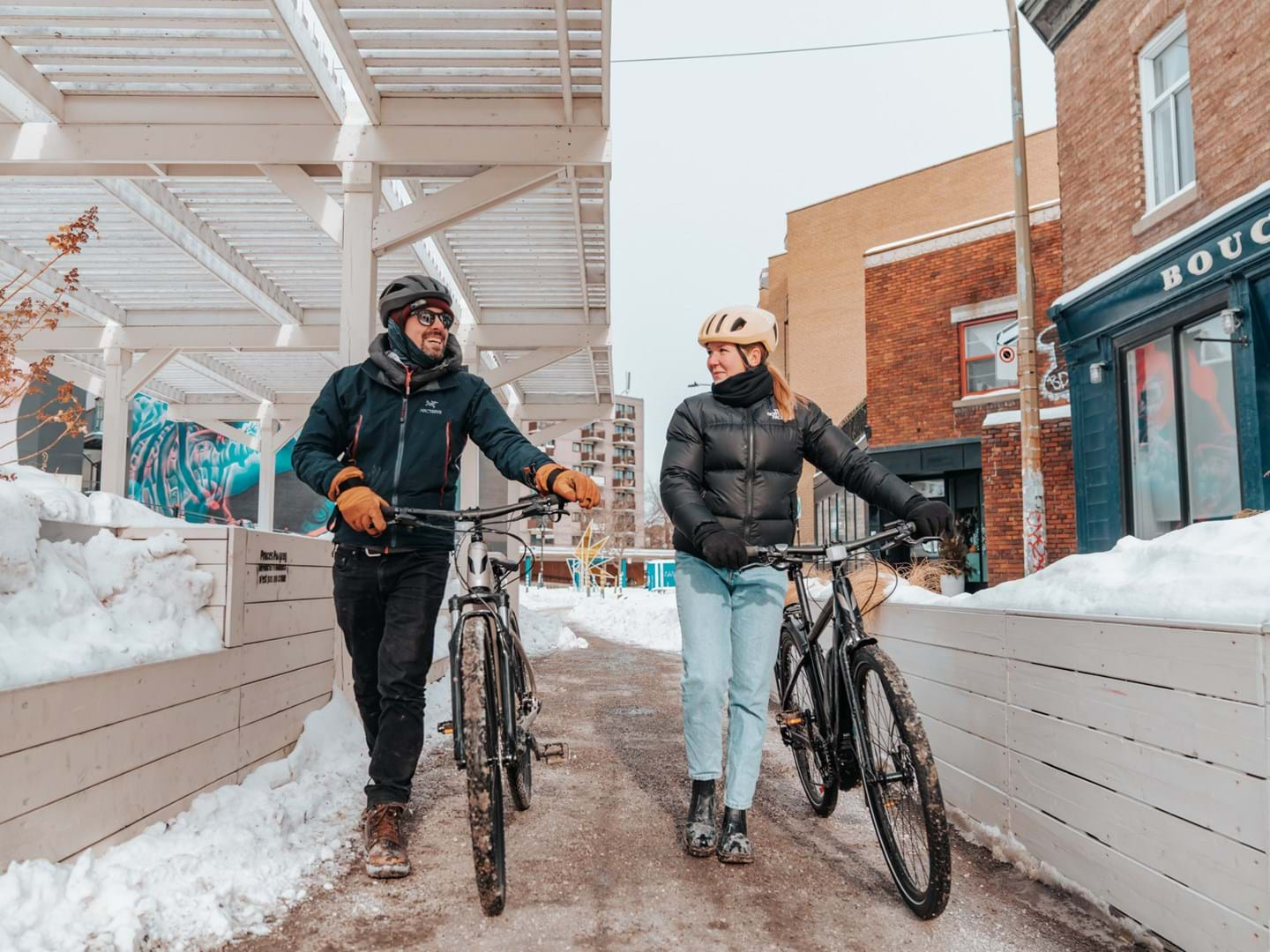 Lights
Good lights are a must if you plan on doing any riding in the dark. Most bikes come already equipped with lights but upgrading them can significantly improve your visibility. Just make sure you bring them inside with you since batteries and cold usually don't mix up very well.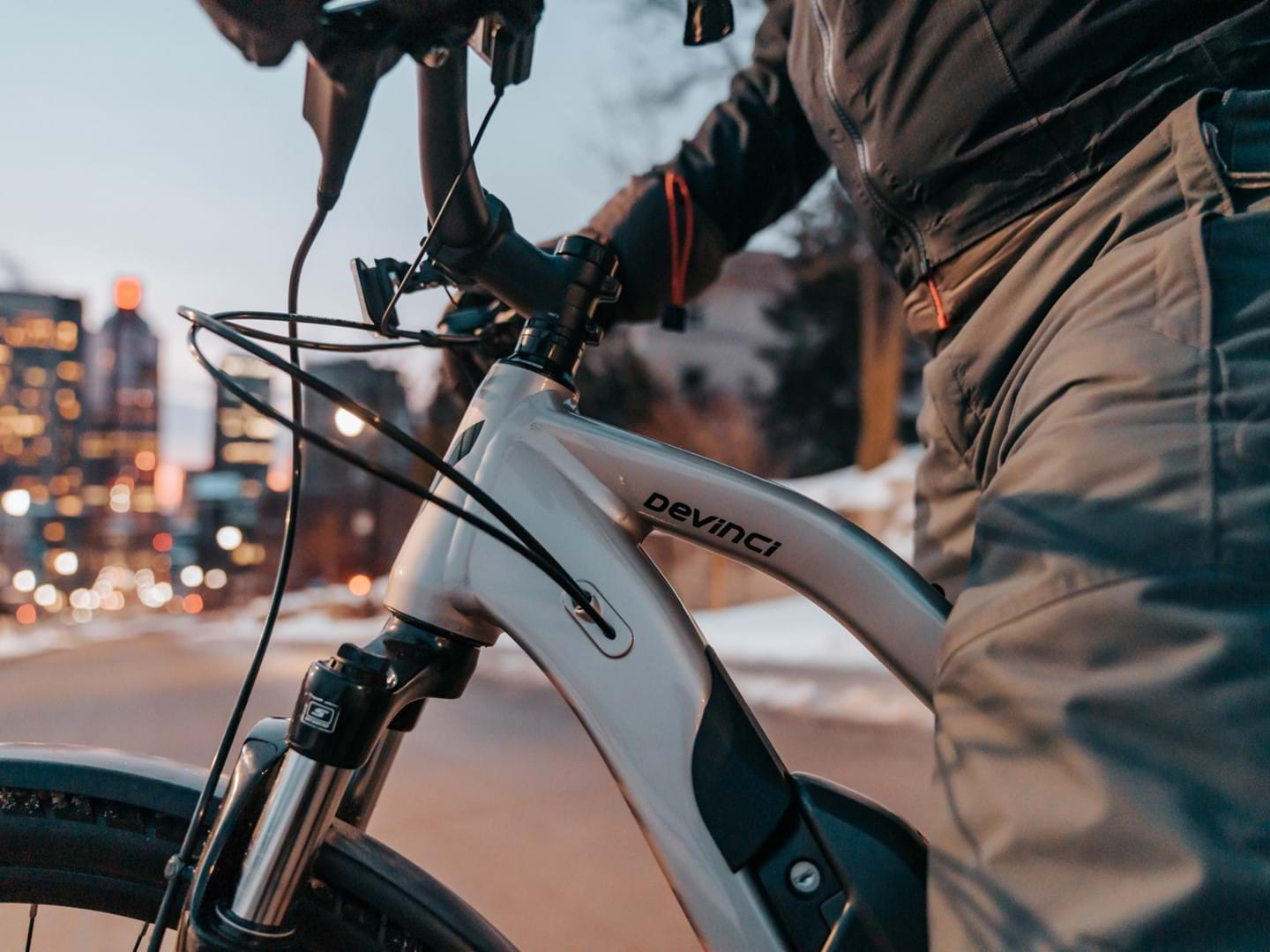 Bike maintenance during winter. 
Winter can be rough on certain components of your bike as temperature variations and salt are known to accelerate corrosion. Staying on top of your maintenance and cleaning your bike regularly will increase its longevity and assure you of a break-free ride.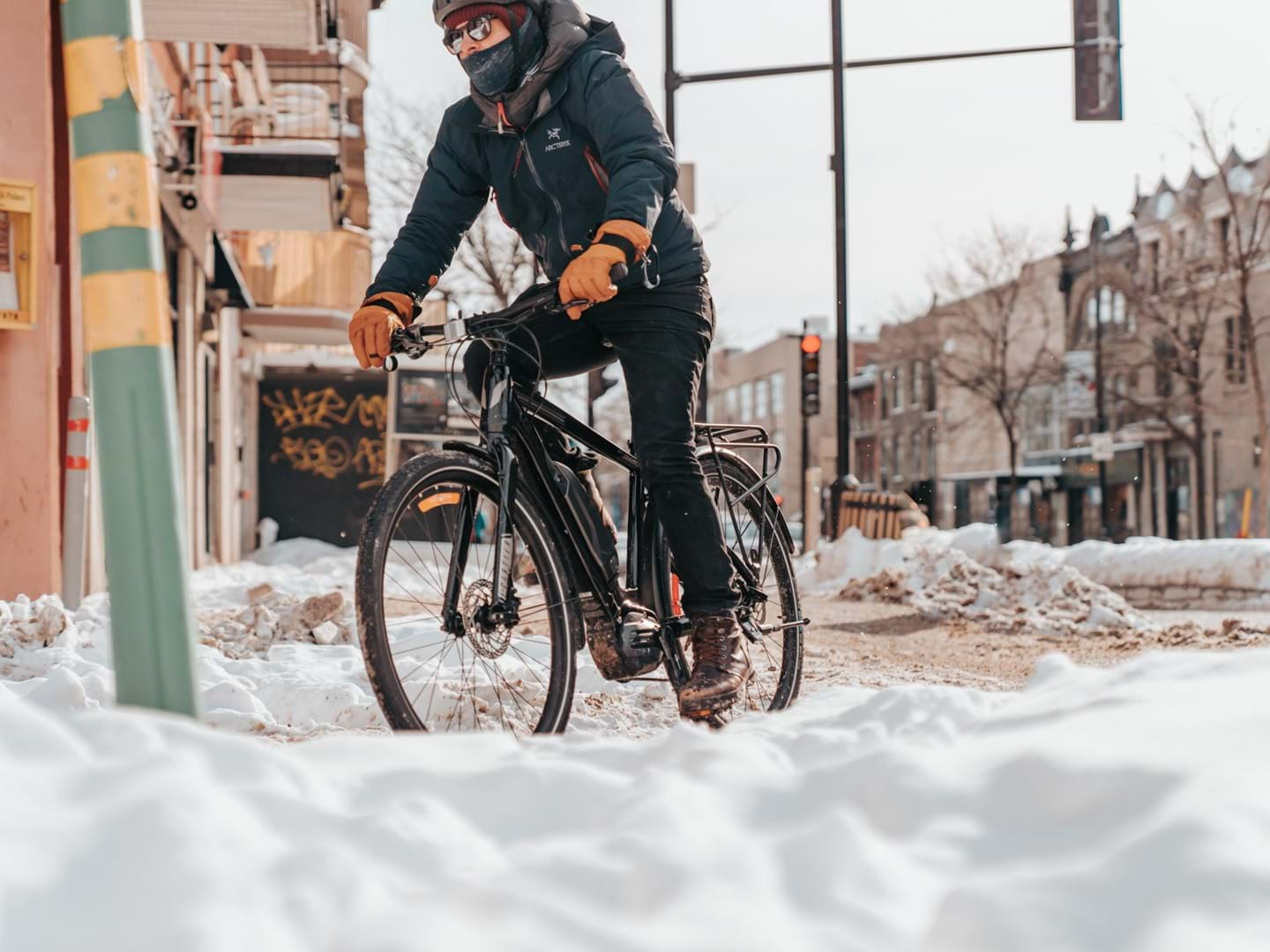 Lubrification 
Using wet chain lube is the single best way to keep your bike running smoothly and with less resistance. You should apply it regularly and clean the excess to avoid getting your drivetrain all jammed up.
Bike Cleaning
A basic rinse every couple of rides combined with a deep wash once a month is a good way to maintain your precious commuter. It's also a perfect time to inspect your components and spot any parts that might need replacement (ex: Brake pads)
How to dress for winter biking?
An essential part of winter bike commuting is what you're going to wear. Layering up is a winning strategy since you can always remove a piece if you overheat. It's a great idea to focus on the extremities since they usually run cold faster. A good pair of mittens, wool socks and water-proof boots will go a long way. Last but not least, wearing a thin hat under your helmet will keep your head warm and protected from the elements.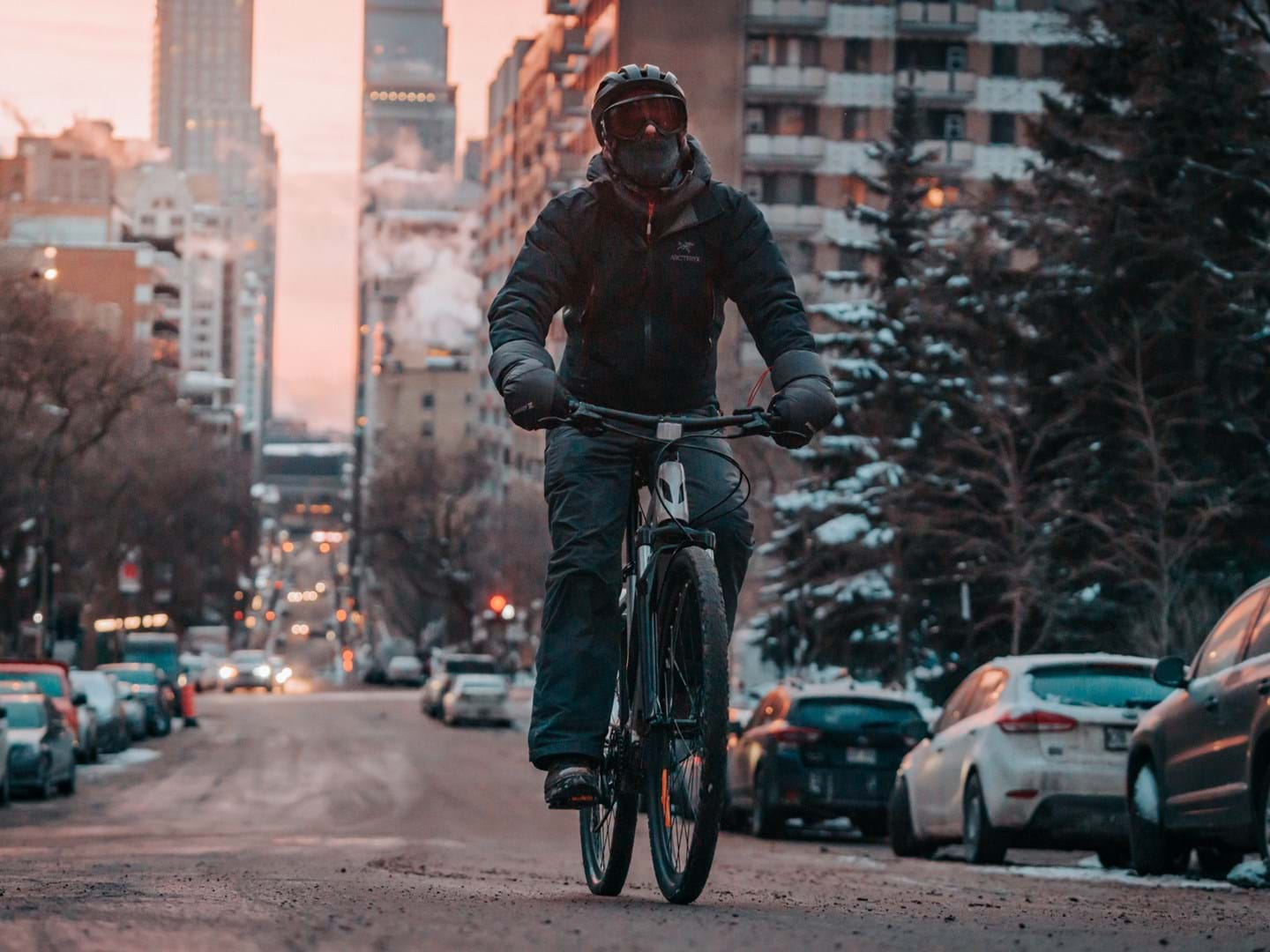 How to bike in winter?
Just like driving a car, the key here is to adapt your riding style to the conditions. Avoid sudden changes in direction and take the turns a little wider so you don't have to lean the bike as much. Adapt your speed until you feel in control even if you have to ride a little bit slower than usual. Just like riding a bike!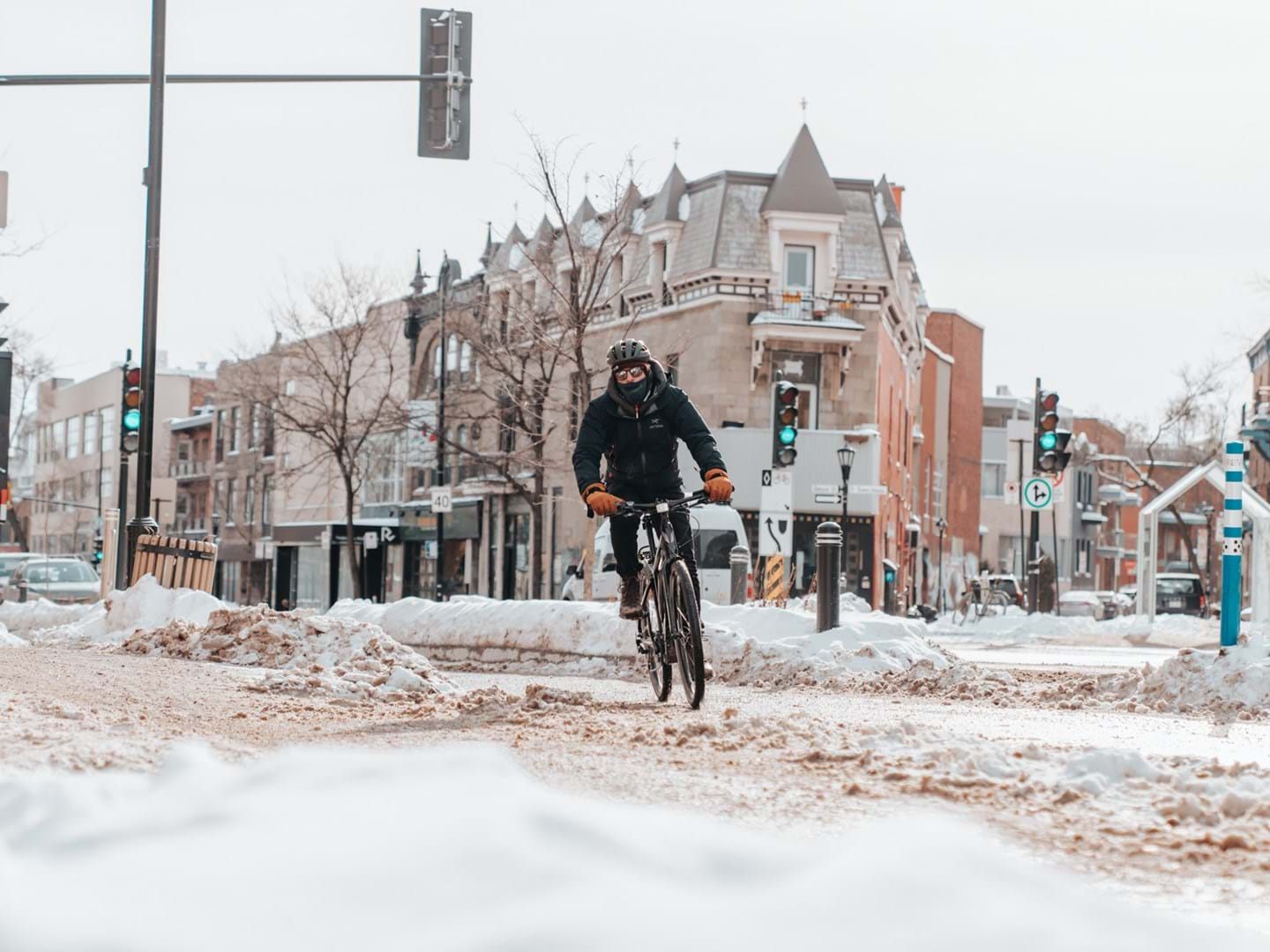 Feeling ready to commute?