Which travel is right for you?
How to Choose Your Mountain Bike
Whether you're just getting into mountain biking, you're returning after a few years off, or you're an everyday rider looking to get a new bike, the million-dollar question that everyone eventually asks is "how much suspension travel do I need on my mountain bike?"  
To answer that question, we should first consider the advantages of a full-suspension mountain bike; these bikes : 
improve comfort (maybe the most

obvious

advantage);

 

absorb impacts and easily overcome obstacles; 

 
maintain and limit the loss of speed due to these obstacles; 

 

forgive rider error or inaccurate bike-handling over difficult terrain (they'll get you out of a jam); 

 

provide better traction on rugged terrain.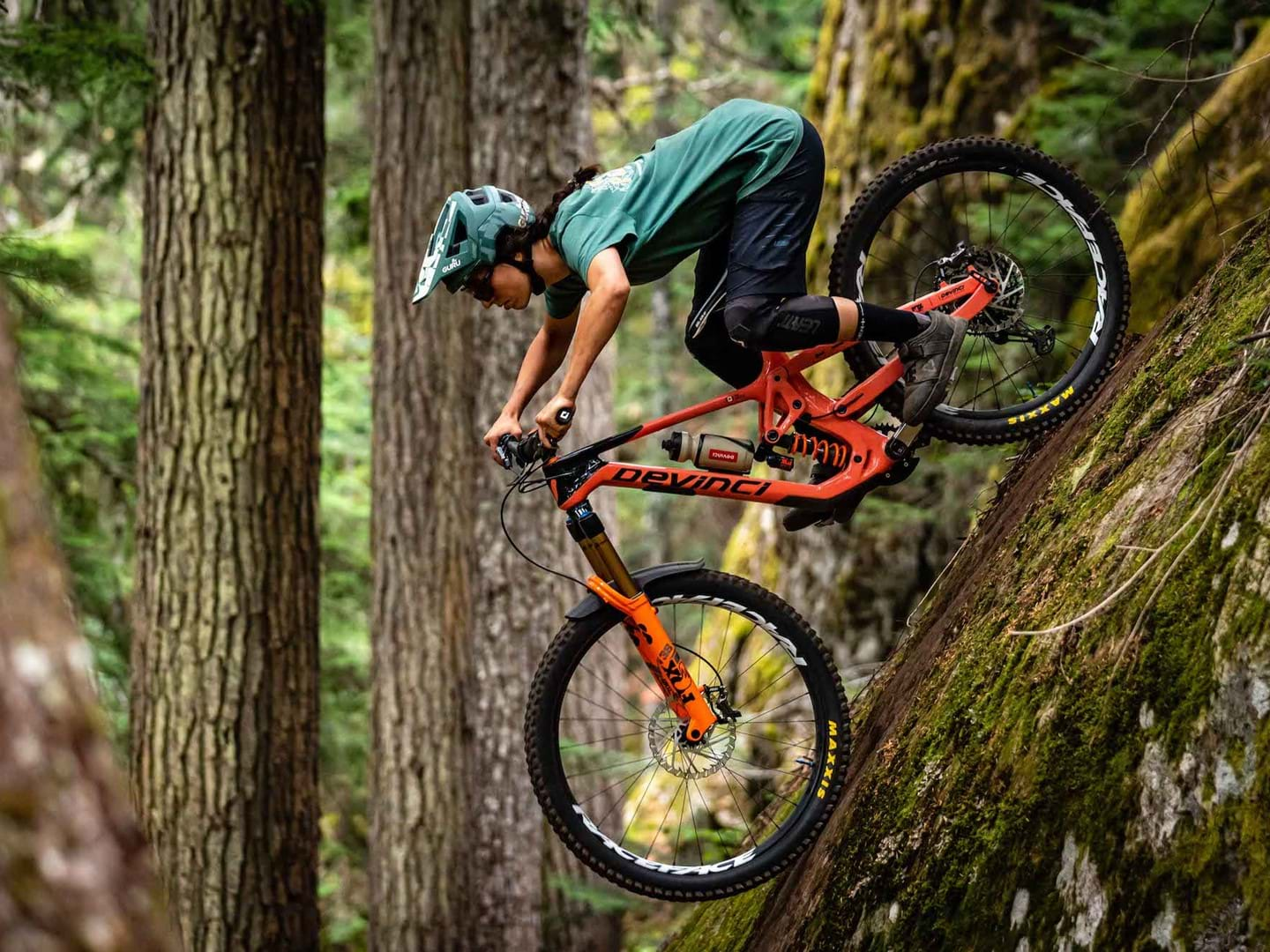 When deciding on your suspension travel, you also need to consider the type of bike and terrain that you'll be riding. Answering the questions below will help to indicate your bike needs for this year and the years to come.  
Do you plan on doing mostly shorter or longer rides? In other words, do you plan on riding all day or for one to two hours? 

 

Do you want to climb as much as you descend?

 

Where, geographically, do you live? Meaning, do you live in the Rockies, in the Northeast, or on the Canadian Shield and prairies? 

 

Who do you plan on riding with? What kind of riding do they do? 

 
The point of these questions is to find a bike which meets your needs for most (about 80%) of the time. Remember, though, that it's possible to use a bike outside the category for which it was designed; you want to get a bike that is appropriate for what you usually want to do.  
You should also consider your mountain biking skills as well as your shortcomings. For example, are you always first to the trail summit but last to the bottom? Try a bike with more travel. In contrast, if you're typically the last to arrive at the top, but the first to get to the bottom, you may want to try a bike with less travel, but which will be more responsive while climbing. This bike will also help you gain bike-handling skills and thus become a better rider overall. 
Discover our range and discover the advantages of each of our platforms.
If you're having doubts or finding it hard to make choice, come in and speak with the experts at Devinci retailers; they have the answers to all of your biking questions! 
If you'd like to read more about the different ranges of suspension travel and what they mean once you're out on the trail, check out our friends at Bikeradar; they have a great article and an excellent YouTube video on the topic.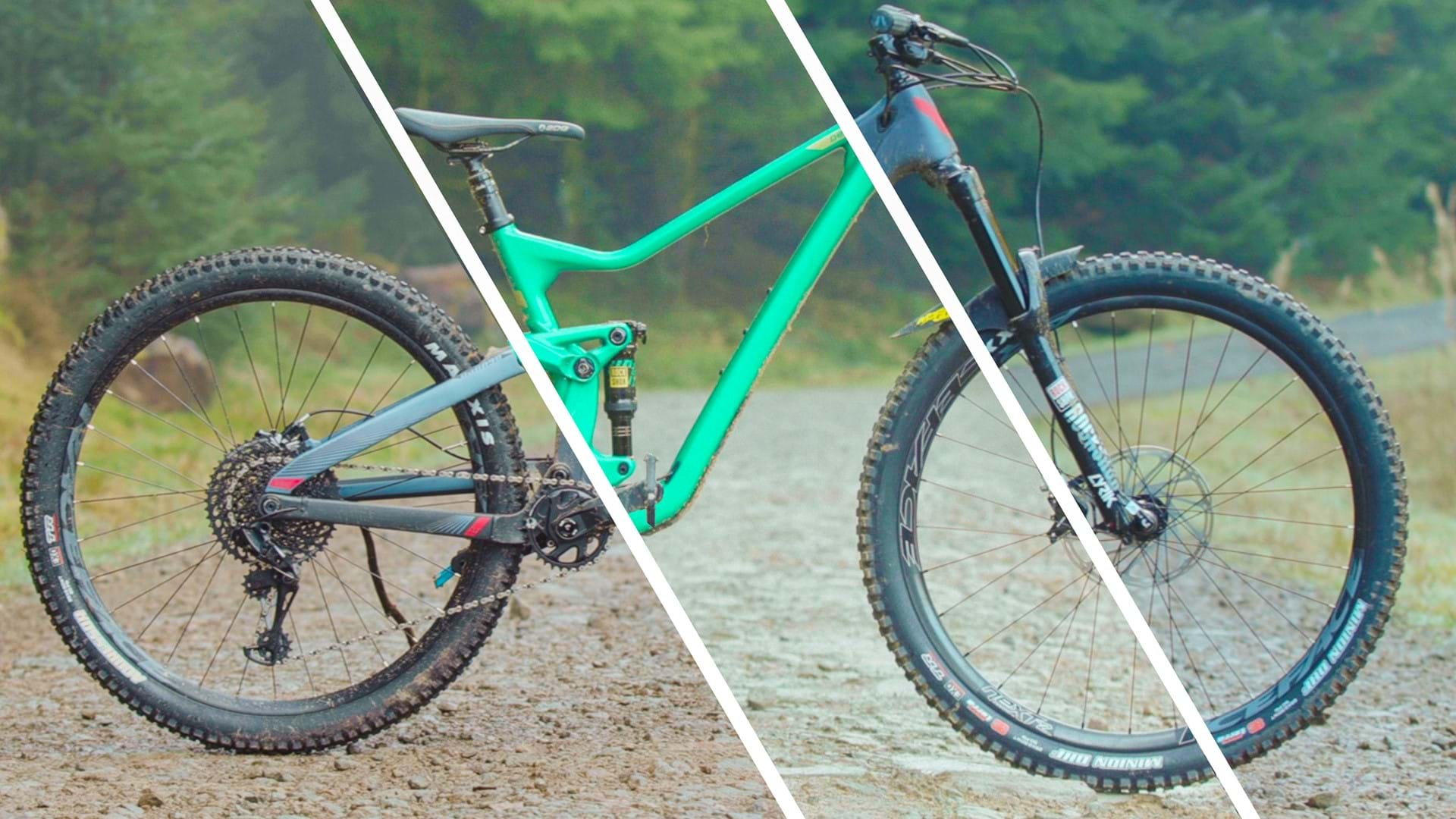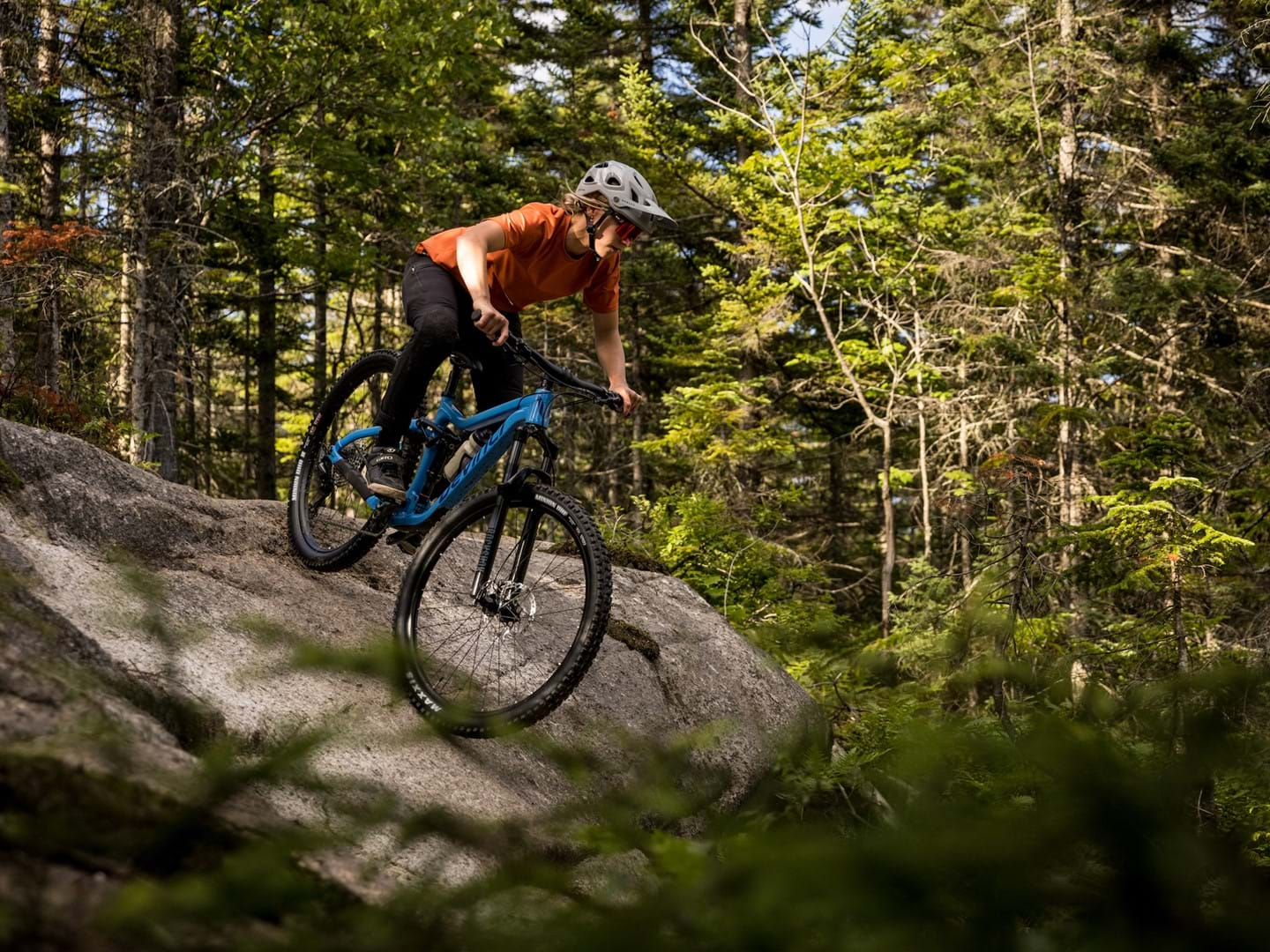 Trail bikes – Django and Marshall
In general, trail bikes feature 120-130mm of travel; trail bikes are a good compromise between cross-country bikes and enduro bikes. This means that trail bikes are super versatile and allow you to drop into the maximum number of trails with confidence. They are the ideal bike for rides where climbing is as much a part of the fun as descending.  
Both the Marshall and the Django by Devinci offer 140mm of suspension travel in the front; however, the Django provides 120mm in the back while the Marshall provides 130mm.  
Devinci also offers the Kobain, a "hardtail" trail bike; this semi-rigid (or fixed rear) bike offers 130mm of front suspension travel to provide maximum comfort.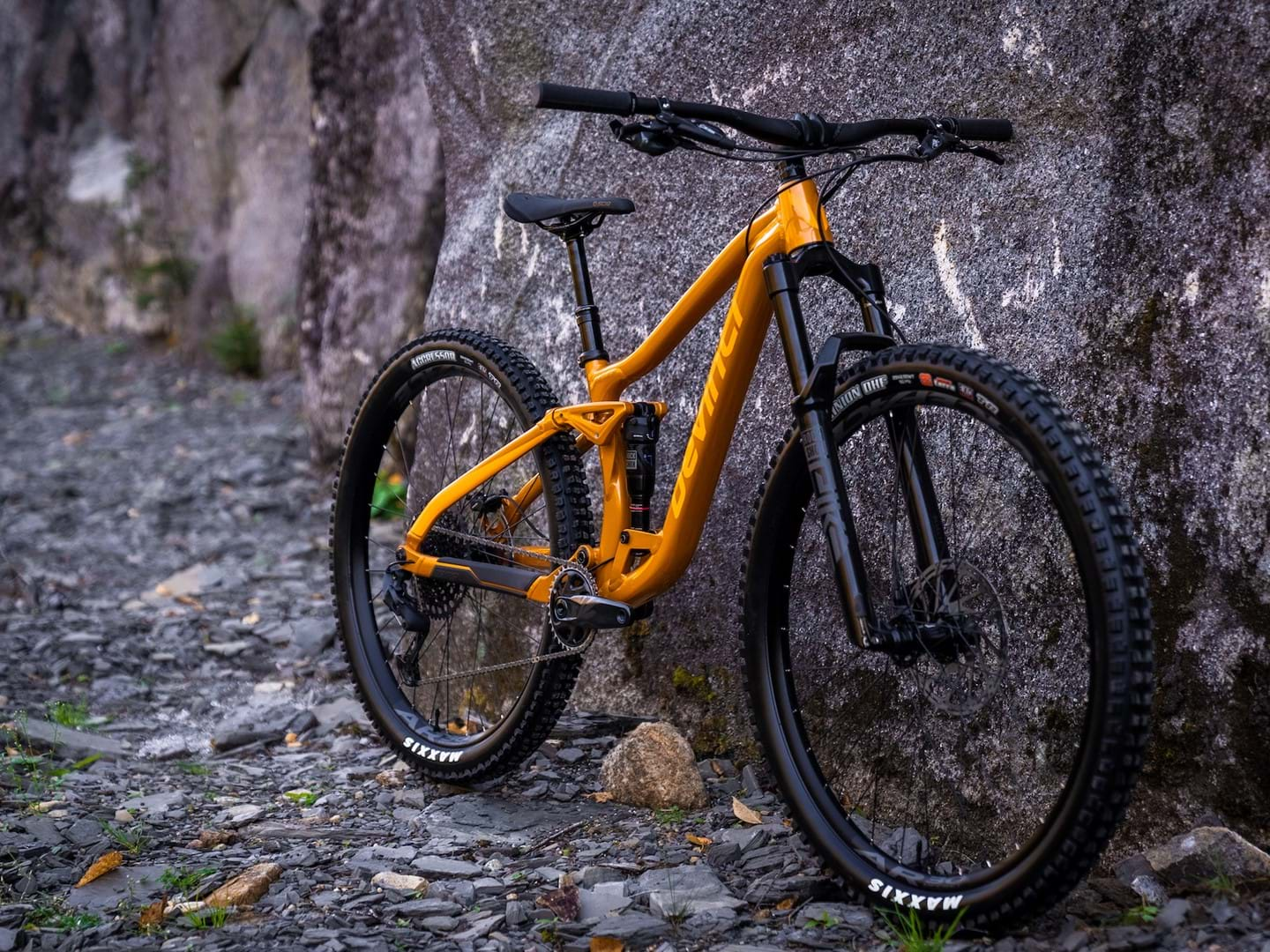 The top reasons to choose a Django or a Marshall: 

 
Fast and easy climbing;

 

Punchy acceleration;

 

Very dynamic in the pump track sections;

 

Lively and energetic on rolling sections;

 
The Django or Marshall will meet your needs best if: 
You live on the east coast and mostly ride on hilly terrain.

 

You live on the west coast, and you want a bike that climbs like a rocket but can also handle some rugged descents. 

 

You want a good marathon bike for doing longer races, like the BCBR.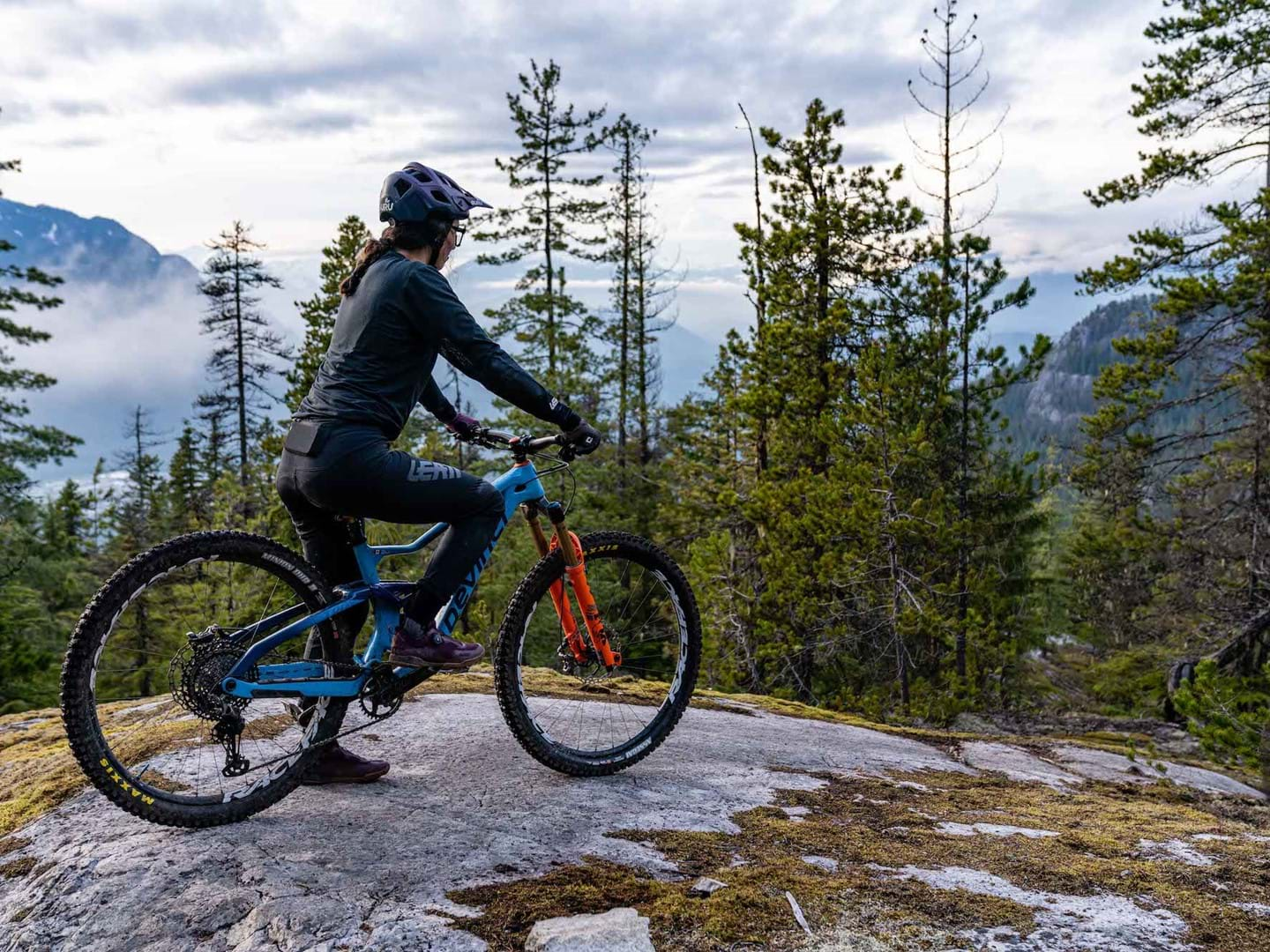 All-Mountain Bikes – Troy
You probably already guessed from their name: the all-mountain bikes are designed to tackle a bit of everything on the mountain. They usually feature about 150mm of suspension, which makes these bikes – like the trail bikes – fairly light, as well as agile and comfortable for long days in the saddle.  
The Troy is Devinci's all-mountain go-to bike; it offers either 150mm or 160mm of front suspension travel, depending on the configuration that you choose, and a rear frame that allows for 140mm of travel.  
The Troy's versatility makes it a great option for just about every trail network in the world.  
The top reasons to choose a Troy: 

 
Designed for long days in the saddle, whether you're out on a back-country adventure or riding single-track trails;

 

The most versatile bike in the Devinci range of mountain bikes;

 

The perfect trail bike for big mountains;

 

Great climbing bike; it gives the impression of being far more capable than a 140mm bike. 

 
The Troy will meet your needs if: 

 
You want more suspension travel than a trail bike. The all-mountain set-up inspires confidence and can handle the difficult sections. 

 

You want to get better in technical sections, or you just want to be able to take on any section of a trail comfortably. 

 

You are traveling with your bike and planning on visiting a few different areas with different kinds of trails. 

 
Your day in the saddle includes a lot of climbing to get to great descents; from logging roads to technical climbs, and you want something that will make climbing to the top easy. 

 

Your local trails aren't necessarily steep, and they offer tight turns and narrow single-tracks, and you want to be able to enjoy the bike's agility. 

 

You want something a little lighter, but which will still stand up to a lot of tough use.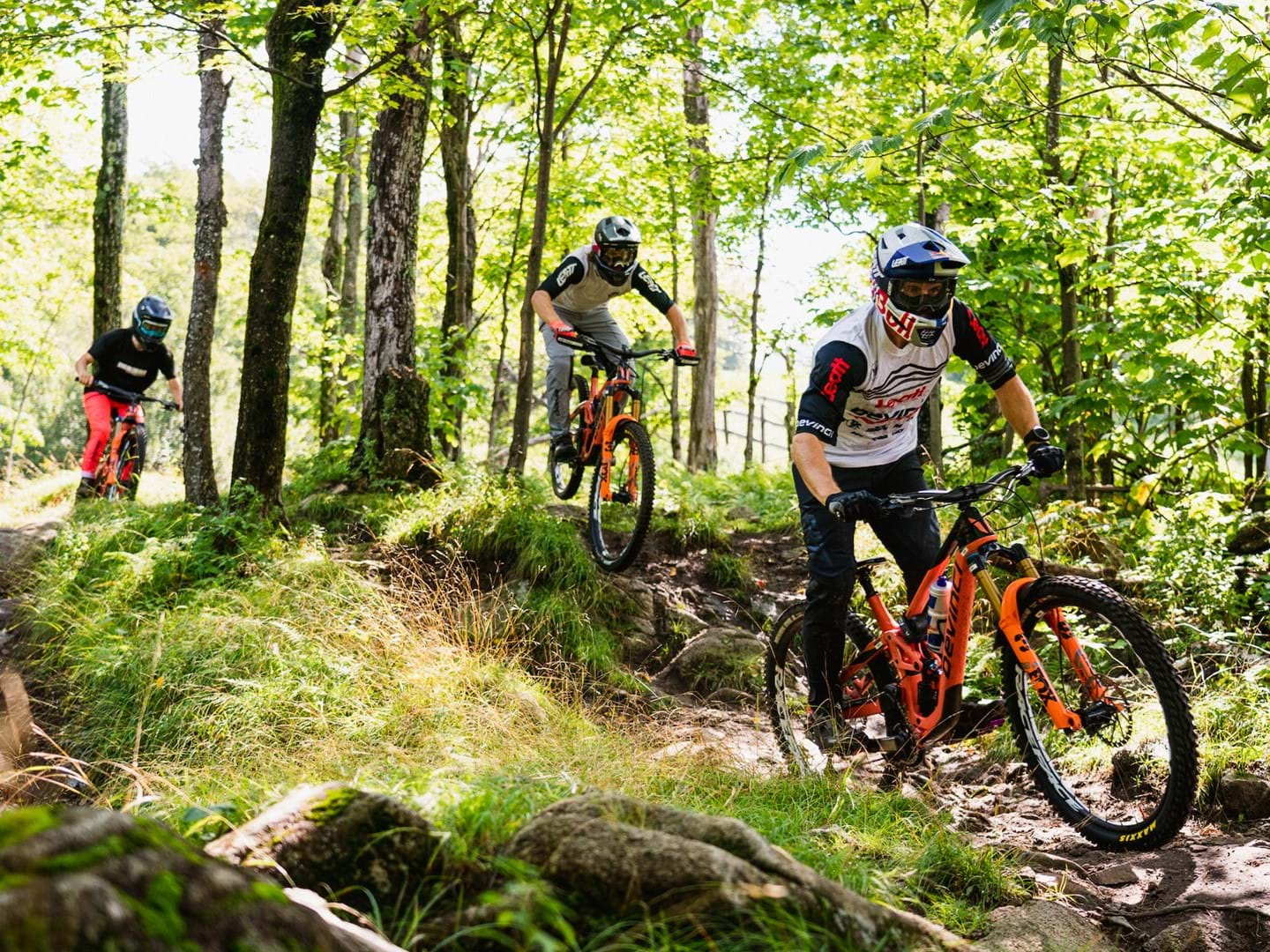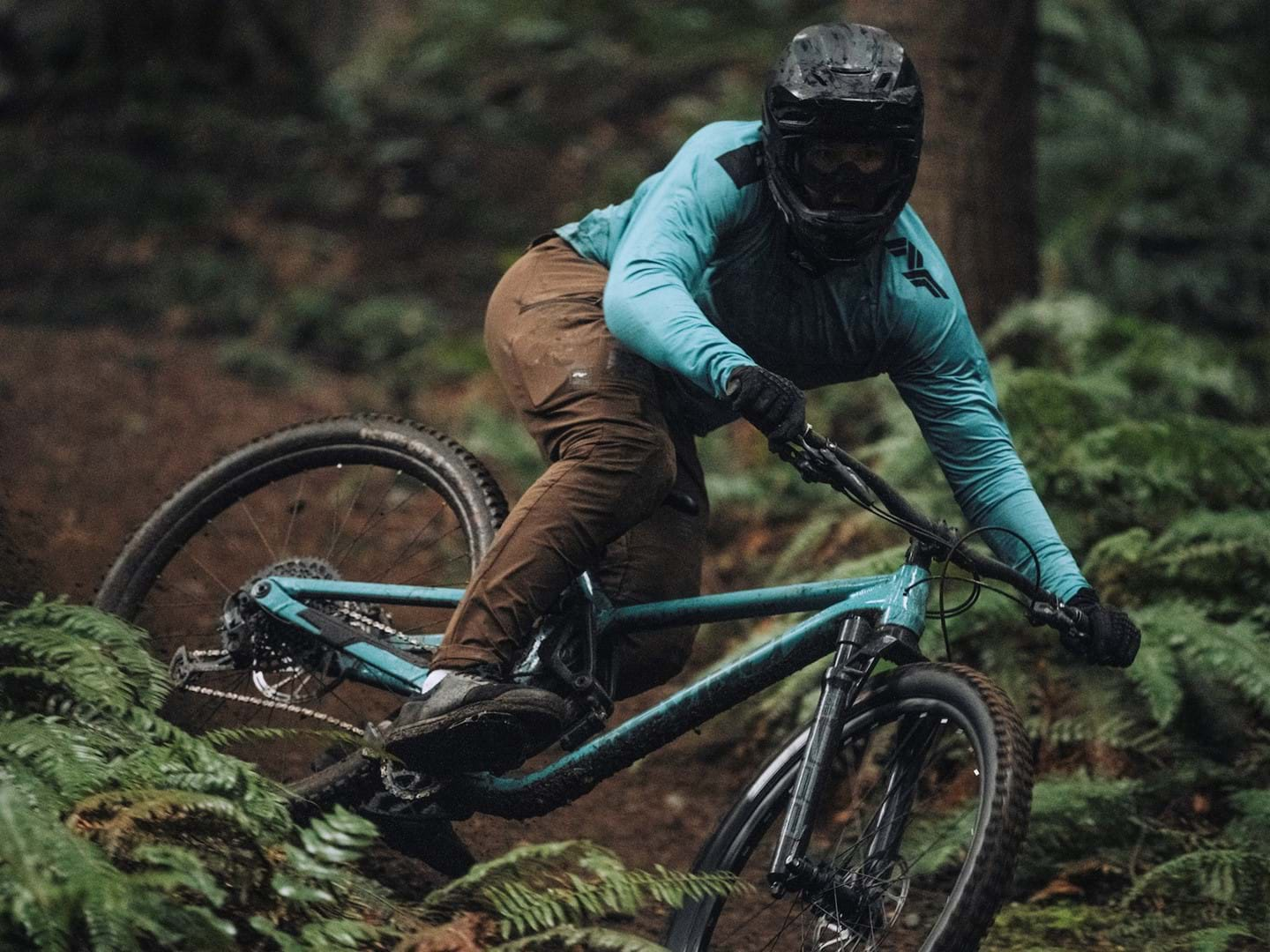 Enduro – Spartan HP and Chainsaw
Representing the final frontier before the hard-core downhill bike, enduro bikes typically offer 150-170mm of front suspension, sometimes even 180mm.  
When you're riding an enduro bike, there's no concern about starting down difficult trails, rough downhill sections, or jumps in the bike park. The only limit is your skills.  
The Spartan HP features a 170mm suspension, and the frame allows for 160mm of rear travel.  The all-new Chainsaw in its enduro configuration features a fork of 170mm of travel and also 170mm of rear travel.
The top reasons to choose a Spartan HP or the Chainsaw: 

 
Enduro racing 

Bike-park riding

 
The Spartan HP or the Chainsaw will meet your needs if: 

 
You want to take on anything, anywhere, anytime. You want to be able to drop into any trail and never have to worry if your bike is up for it.

 

You want to improve your technique with the most capable bikes from Devinci.

You are travelling with your bike and planning on visiting a few different areas with different kinds of trails, including some bike parks. 

 
Downhill – Chainsaw DH
Downhill-dedicated, maximum strength, big travel. In order to take on the most difficult descents, you need a bike like the Chainsaw DH – and a chairlift or a shuttle rig to get you up the mountain – equipped with a 190mm, dual-crown suspension fork.  
With a downhill oriented mountain bike, there's no doubt: the only limit to speed is the rider!  The Chainsaw DH can comfortably reach speeds much higher than any of our mountain bikes. And it can also navigate across the gnarliest lines with ease and stability.
Sharpen your reflexes with the Devinci Chainsaw DH and its 170 or 180mm of rear suspension travel.  
Mountain bike and suspension lingo: 
Fork: The part of the bike where the front wheel is attached. 

 

Hardtail: A semi-rigid mountain bike with only a front suspension, but no rear suspension.

 
Full-suspension: A mountain bike with rear and front suspensions.

 

Travel: The maximum distance that the suspension can compress or extend.

 

Sag: The amount that your suspension moves under your weight when you are in riding position with all your riding gear.